Bonnaroo: The UK Experience
The tale of a British Bonnarookie, from the 2008 Bonnaroo Music & Arts Festival.
Bonnaroo 2008
BY: James Green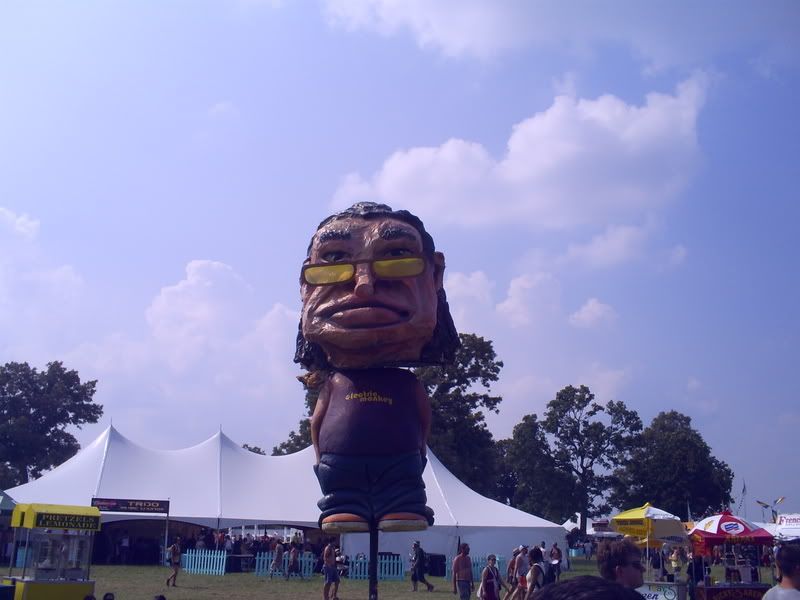 When Kotori offered, I jumped at the chance to come over from the UK and experience one of the world's fastest growing music festivals. Who wouldn't? Although I've been to more than 10 festivals in Europe and attended California's Coachella last year, this is my first Bonnaroo. So, what follows is the tale of a British Bonnarookie. An experience (there are thousands of different ones at every festival, of course) of the 7th annual Bonnaroo Music and Arts Festival, Manchester, Tennessee.
First, for the benefit of future Bonnarookies, we'll start with the important stuff:ÂÂ
Essential Roo Info
Ø Beer costs 6 bucks.
Ø It gets hot. Your choice is sunscreen and water or death.
Ø The organisers need to be punished for the names they give the stages: What Stage, Which Stage, This Tent, That Tent and The Other Tent. This leads to numerous horrible conversations: "Are they on in this tent [pointing]?" "Dude, this is that tent." "No, not this tent, I mean the other tent." And on, and on. Hilarious for five minutes, irritating as hell for the rest of the weekend. Best to just point at stages.
Ø Bonnaroo is one of the few four-day festivals. This is long-haul festival going. But, man, it's worth sticking at it.
Ø Unlike some festivals, there are very few showers and the ones that do exist aren't free. Plus you can be sure you'll need to queue. Bring wipes, be gross. It's only four days.
Ø A warning to conservatives, and an incentive for everyone else: people wear few clothes at the Roo.
Ø Bonnaroo is for night owls – bands go on till at least 3 or 4 in the morning. Coffee intake is essential. And only an idiot would fly out from Europe the day before and try to cope with staying up to see all these bands with severe jetlag…ÂÂ
So, now you're all set for 2009. This is how it went in 2008: ÂÂ
Roo Review…ÂÂ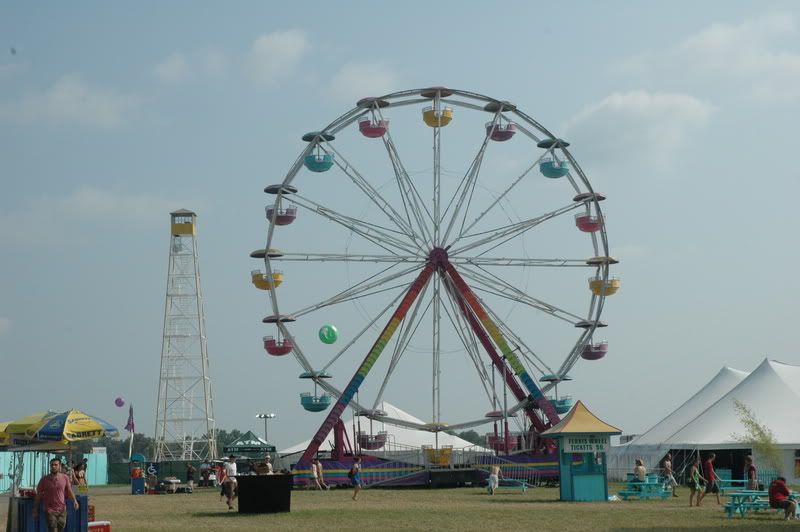 ThursdayÂÂ
The day starts with a shuttle trip from the airport to the site. This is the smart man's way to get to Bonnaroo: the shuttle bypasses all the traffic, so no queuing for five hours like all those saps with cars. It's just straight in, and head to the beer tent. There are a few hours to kill, because the music on Day One doesn't start till after 5pm. No problem, as there's plenty to do: catch a movie, buy a didgeridoo, or try some hip-hop yoga (best not to ask…). Bonnaroo is not just a music festival; there is so much going on that it takes a while to get your head round it all. This place is big. Still, for all of these entertaining side-shows, I'm glad when the music finally kicks off.ÂÂ
Well, I'm glad for a few minutes at least, until I realise that What Made Milwaukee Famous are hellishly dull. Fifteen minutes of their sleep-inducing, middle of the road rubbish, and I'm off to a different tent to find something better. Not a good start… In complete contrast, fellow Brit Newton Faulkner delivers a superb acoustic guitar set to a packed tent. I thought he was going to be a lame ballady guy, but no: Faulkner is a technical wizard, who uses his guitar for both melody and (through some great tapping and slapping) as a percussion instrument too. His cover of 'Bohemian Rhapsody' gets the crowd going most obviously, but his own songs hold up well too, with the pop sing-a-long (and dance) of 'UFO' being the highlight. Easily the best act on Day One.ÂÂ
Staying put, I catch retro-blues rockers Back Door Slam. Their singer-guitarist, Davy Knowles, is awesome. No wonder that, in some parts of the American press, he's been compared to Hendrix. The other two guys in the band are lucky as hell, and could be replaced mid-set with a drum machine and a taped bass loop, and I doubt I'd have noticed. Back Door Slam (well, Knowles) have some strong tunes, and put on a good show, albeit that the band are some 45 years late with their sound. Attending this time-warp means I only catch about half of MGMT. To be honest, they're not my thing, but I was really impressed with just how inventive their sound is. Very unique, and totally committed, this is an excellent live show. Still wouldn't buy their record, but that's my fault, I think, not theirs. Impressive.
I move deep into the crowd for a band I love, New York's experimental post-rock outfit, Battles. I was looking forward to hearing tracks from their superb Mirrors album. What I got was a big mess. The sound wasn't great, but the soundman can't entirely be blamed for the performance. What seems so alive and dynamic on CD just came across as plodding and confused live. Battles' sound just doesn't translate. Admittedly, it was pretty amazing to see members of the band playing two instruments at once (keyboard with one hand whilst tapping the fret-board of a guitar at the same time – technical genius). But as George Lucas has shown us more than once, technical wizardry does not by itself turn shit to gold. Highly disappointing.ÂÂ
Vampire Weekend are bigger than toast in the UK right now, and it seems from the crowd here that the US is pretty keen on them too. Personally, I've never been entirely convinced by their tin-reggae indie sound, but hell, let's give it a go. They're good too, with energy and passion behind their songs. I have trouble getting as excited as everyone else seems to, but this is nonetheless good fun. More fun, at least, than Battles turned out to be.ÂÂ
Bed time.ÂÂ
FridayÂÂ
After watching other people do morning yoga (I'm not bendy and it looks difficult), and grabbing as many ice coffees as I can without exploding my head, I wander over to watch Steel Train. They're a classic indie band, who offer up an incredibly tight set comprised largely of tracks from last year's triumphant Trampoline record. The band sound great and Jack Antonoff's voice is pitch perfect throughout. In fact, if anything, the only complaint that can be levelled at Steel Train is that their act is maybe just a little too perfect: they sound amazing, but don't really have any edge. Nor does José González, but then he's not really in the business of being edgy. Although In Our Nature was a disappointment in comparison to his excellent debut, Veneer, the songs from his second record still sound superb live. González's soft acoustic vibe is ideal for relaxing during a sweltering lunchtime. He's a top quality performer, and one very well suited to an afternoon slot on the festival circuit.ÂÂ
Next up are twin pop queens Tegan & Sara, whose most recent effort, The Con, was one of the most underrated records of 2007. Whilst I'm waiting for them, I notice that a group in the crowd have a collection of home made t-shirts, bandannas and arm bands, all reading: 'Tegan or Sara: I don't care which'. A wholly understandable sentiment. When they emerge, T&S treat us to a wonderful mix of killer pop songs and superb banter (the chemistry between the two is something that just can't be faked). Admittedly there is nothing all that original about their music or their performance, but T&S just deliver it all with so much style. More importantly, they write fantastic songs, pure and simple. Recent single 'Back in Your Head' is probably the highlight, but, in truth, every tune here is a gem.ÂÂ
Les Claypool is barmy. Not just a little 'out there', but full-on mental. He appears wearing a crazy mask, and without a pause launches into his trademark bass-noodling insanity. I thought Primus had some crazy songs, but this... Brilliant, if completely unfathomable. Unfortunately, I can only devote two songs worth of time to Mr Claypool, because I need to head over to the main stage to catch The Raconteurs. And am I glad I did. Consolers of the Lonely is an album of astounding quality (perhaps somewhat surprisingly, given their fairly average debut). Even so, I wasn't expecting a show of this standard. The focus is inevitably Jack White, but the whole band gives absolutely everything. This is a performance of pure passion, with White appearing almost violent in his approach. In fact, with half an hour of their set to go, he just storms off mid-song, for no apparent reason. The rest of his band quickly follows him, but thankfully within minutes they're back. This odd interlude just underlines how close this band is to the edge, and when they return they somehow manage to be even better than they were before they left. 'Many Shades of Black' is almost spat at us by Brendan Benson, and a reworked (much heavier) version of 'Broken Boy Solider' provides another highlight. Authentic, passionate and technically amazing, this show has confirmed a niggling feeling that I have had growing in me since the second Raconteurs album was released. Don't say it too loud, but: The Raconteurs are better then The White Stripes.  Time to quit the day job. Probably the performance of the weekend.ÂÂ
A short break, and then an oddity: comedian Chris Rock gives us a set on the main stage. Never seen a comedian perform on the main stage at a festival before, and although Rock is funny, no question, he's also something of a letdown after the Raconteurs just blew me away. Plus, I'm not sure if Rock's admittedly sharp commentary on race and politics has quite the same resonance for British ears. My cultural limitations may have let you down, Mr Rock.ÂÂ
I'm not quite sure what they're doing here, given Bonnaroo's hippy-jam roots: the presence of the mighty Metallica really shows just how far this festival has changed in its short existence. Whatever, I'm not complaining. It's been almost ten years since I last saw Metallica live, but they've lost none of their ferocity. 'Creeping Death' is still brutal and completely vital. 'Harvester of Sorrow' remains their most underrated masterpiece, and 'Master of Puppets' is simply colossal. The pyrotechnics, fireworks and explosions are all absolutely incredible, although I think the band are actually louder than them. A full four tracks from thrash dinosaur Kill 'em All is a bit surprising (although they remind me how good that record actually was). Equally, as one of the few people who like 'new' Metallica as much as 'old' Metallica, I am a little disappointed that 'The Memory Remains' was the only post-Black Album tune on show. This is easily forgiven, considering how superb this performance is. Much harder to forgive, though, is the fact that we don't get 'Battery'. As a guy next to me says when Metallica leave for the final time: "What the fuck, man. No 'Battery'!?" I hear you, bro. They still kicked ass, though.ÂÂ
It's after midnight when My Morning Jacket appear, and jetlag and the Raconteurs/Metallica double header means I'm sleepy. MMJ are great, with a really varied and colourful set spanning their career so far. Apparently they play on for three hours, but I only last for the first of those before I head back to my tent to sleep. Sorry, MMJ, I tried.ÂÂ
SaturdayÂÂ
San Francisco's Two Gallants sound like a slightly angrier Bright Eyes, which I guess is no surprise, seeing as how they're on the Saddle Creek label. Adam Stephens' voice is very reminiscent of Conor Oberst's, but Two Gallant's nonetheless have a spiky charm of their very own. Quality lyrics and a performance that exudes intelligence; it's impressive that this robust sound can be made by just two guys. A surprising highlight, and enough to make me go and buy one of their records.ÂÂ
I'm right at the front for Against Me! and it's crazy here. This is the third time I've seen them live, and they always deliver a completely raw set. You get the feeling that this isn't just a show. These guys mean it. Importantly, though, the passion and intensity is backed up by quality rock songs, most of which come from the best album released by anyone in 2007: the brilliant New Wave. People sing along to every track, jump like fools and smile big smiles. Against Me! are an amazing live band, and given the fact that the tent is totally packed, they're also one that's growing in popularity. They deserve everything they get.ÂÂ
Another one for the metalheads, Mastodon throw thinking man's metal at the seething mass of bodies in the most violent pit of the weekend. Humongous tracks from their last two albums (plus a new song and a sprinkling of tracks from their debut, Remission, to keep us on our toes), the set list is virtually perfect. The sound, unfortunately, is not (the fault must be with the sound engineers here).  Unlike Battles, though, Mastodon are too good for the distorted feedback to matter all that much. Oh, and they have one of the best drummers on the planet (how many arms does Brann Dailor have, exactly?). Brain-achingly good.ÂÂ
After that pounding, Cat Power is a nice change of pace. Sitting in the sun and listening to Chan Marshall's soft voice helps my ears to stop ringing. Unfortunately, this set suffers from being mostly based around Cat Power's more recent material. There is a directly inverse relationship between the quality of Chan Marshall's song writing and her popularity: the disappointing but massive selling The Greatest is easily her worst album. Still, in spite of the poor set list, she's too talented for this to be a bad show, and I nod along appreciatively. Having said this, when Iron & Wine appear offering a comparably chilled sound, Cat Power's fall from grace is starkly highlighted. Samuel Beam and his band are on top form, producing enthralling versions of tracks from last year's The Shepherd's Dog, as well as a few older tunes. Superb song writing, an easy delivery, and a refreshingly humble attitude all come together to make Iron & Wine one of the best acoustic acts around right now.ÂÂ
Originally, I'd planned to see Kanye West next, who was due on the second stage. Kayne's not happy with the Bonnaroo people, though, because he feels his extra special light show really suits the main stage. So, it's agreed he'll take to the main stage after headliners Pearl Jam have finished with it. Kanye is now scheduled for the new start time of 2:15am…ÂÂ
To Pearl Jam, then. I loved them back in the early 90s, but then got completely disillusioned with their later albums (the last one I bought was Vitalogy, back in 1994). In other words, I thought that this show was going to be 15 years too late for me. It's fair to say I didn't expect all that much. What I got was, frankly, incredible. Songs from Ten and Vs. suddenly sound crucial to me again after years of me ignoring them. Whilst some of the newer songs sound comparatively weak, others stand shoulder to shoulder with the classics. Eddie Vedder's voice remains as full and unique as it was during their heyday, and Mike McCready is a much better guitarist than I ever gave him credit for (albeit that he's now looking pretty darn old). 'Elderly Woman behind the Counter in a Small Town' is astoundingly powerful, and 'Do the Evolution' is so good that I decide to search eBay for a used copy of Yield. The whole show is a complete surprise for me, but a very welcome one: just a shame it has taken me this long to see them live. Second only to The Raconteurs for band of the weekend, this is seminal stuff. Hell, 'Better Man' actually gives me goosebumps (only the third time ever a live act has done that to me). A bit sad that when Vedder spoke out against the war in Iraq, he was booed: I thought this was a hippy fest, people...ÂÂ
So, it's 1am, and I decide to miss the first half of the re-arranged Kanye show, and head over to a smaller tent to see superb Icelandic magicians, Sigur Rós. The tent is rammed, and I can hardly get in to see them at all. Perhaps unsurprisingly, given their reputation, the show is flawless. Jón Þór Birgisson's falsetto is wonderfully distinctive, and the swirling ethereal sound made by the band works far better live than I thought it might. Passionate and chilled in equal measure. There are a few post-rock bands around today doing something similar to what Sigur Rós do, but none that can do it this well. Following on from Pearl Jam's masterclass, I was worried that this may be a letdown, but it is really rather excellent, and comes close to Vedder and Co in terms of quality, if not in terms of style or tone. Sonically visionary, I make a note to pick up their fifth studio album when it's released at the end of the month. When they finish, I head back across the site to the main stage, all the while humming 'Hoppípolla'. I get there to find lots of people, but seemingly no Kanye. Watch check: 3:15am. He's an hour late. There's a sign on the big screen saying 'Kanye West: On Stage Soon'. Soon is not soon enough for me. Screw you, Kanye, I need sleep.ÂÂ
SundayÂÂ
The big news Sunday morning is, I'm told, that Kanye sucks (I'm not sure this is really news, but whatever).  This is the official position of the thousands of people who waited to see him, and they chant it out at virtually every show all day. Kanye took so long sorting out his extra special light show that by the time he took to the stage – somewhere between 4:30am and 5am – the sun had come up. As such, nobody could see the light show. Kanye was then booed until, after less than an hour, he walked off and didn't come back. I'm glad I just went to bed, 'cause I feel ok, and everyone else looks beat. They've all had two hours sleep…ÂÂ
On Sunday, Bonnaroo acknowledges its jam band roots, and, as this isn't exactly my scene, I spend the first few hours of Sunday morning hanging out in the Troo Music Lounge (the new bands tent). First, I see a brilliant Knoxville-based combo called Tennessee Schmaltz, who, my Bonnaroo book tells me, play a mixture of country, jazz and traditional Jewish klezmer. If they say so. Whatever it is, it's hip-movin' good. Girls hula around while a little old guy plays an accordion and then a trumpet. What a lovely start to Sunday morning. Next in the tent is rocker Alana Grace. She is stunningly beautiful. She also has a really good voice, coping with husky whisper and rock howl equally well. It's a shame, then, that she's wasted on some pretty dull songs. This is polished mainstream unit-shifter rock. Still, with her looks, her voice and her efficiently bland collection of chart rock songs, she could be on the main stage next year. Alana Grace: a name you can expect to hear again.ÂÂ
Out of the tent and into the sun. Time for the first of two sets by Canadian supergroup, Broken Social Scene. This is an intimate 30 minute show on one of the small stages, where the band essentially only play tracks from their 2002 release You Forgot It in People. In addition, we get one new track with very simple lyrics, to which the crowd gladly sings along:ÂÂ
Put down the bong and vote for Obama
You know that you wanna.ÂÂ
Indeed. Ideal chilled rock for a hot afternoon.ÂÂ
I had nothing planned next, other than beer and maybe some food, but Robert Randolph's Revival grabs me as I walk passed a tent, so I stay and watch the whole set. The Family Band + give me a slide guitar extravaganza, with some funky bass and a hint of gospel thrown in. Quite old-school, and very tight. Now I really do need to get a beer, though.ÂÂ
OAR haven't made it in Britain, so I'm not familiar with their sun-kissed college radio tunes. They do sound a lot like Sublime though, right? Perfectly nice, but fairly uninspiring, so I give up half way through and go back to the new bands tent for New Orleans' Rotary Downs. They're pretty good, with an eclectic mix of songs, including some punk, some blues, and even a bit of an 80s oi! sound. Intriguing.ÂÂ
In their second show of the day, Broken Social Scene are having trouble. A keyboard is out of tune: it sounds shit. An amp blows, so one guitarist disappears mid-song. They obviously got the same soundman as Mastodon and Battles too, 'cause the mix is terrible. The band handles all this in, well, a very Canadian kinda way. Calmly, but a little smugly. In spite of the sound difficulties, though, they do manage to deliver a pretty good set, and eventually get the crowd going. The highlights come from their self-titled record of 2005, but the older material they play also still sounds fresh. We are treated to another chorus of 'Vote for Obama' too. Good stuff, but perhaps not quite as good as I'd hoped for.ÂÂ
The whole damn thing ends with archetypal jamsters Widespread Panic. These guys are tight and technically superb. Having said that, their sound is a little one dimensional, and, fundamentally, they just don't do it for me. I watch maybe half of their 3 hour set before giving up.  ÂÂ
Full circle, then. The festival opened with a fairly disappointing band and ended with one too. Virtually everything in between, though, was utterly Bonnariffic.
[James Green - Kotori Magazine]   ÂÂ
All Comments require admin approval.