God Bless Bloc Party!
    It's been a while since I last saw Bloc Party perform and this show couldn't had came at a better time! For a while now it seemed like their music had been taken hostage by the ominous electro world of the remix. Everybody from Crystal Castles to Erol Alkan has flipped the script on their illustrious sounds. It's no wonder the band sells out[shows] like Diddy in a shiny suit. 
     On their triumphant return to the United States, Bloc Party blesses the Mayan Theater in Downtown Los Angeles. Freshly fitted in a L.A. Dodger cap and trademark Obama tee, Kele and the crew deliver a riveting performance. Since releasing their second album, A Weekend In the City, their maturity as a band has become quite obvious. On stage, they seem quite confident, almost cocky but without the negative connotation. Simply put, they look like their having a blast when they perform. Most bands are all business! The band even took the time to let a couple elope on stage, it was quite dramatically romantic.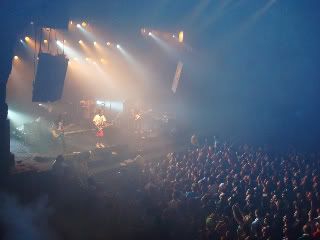 "
     Break out group, Does It Offend You, Yeah?, also joined in on the party. They've been steadily building their own following across the globe with their catchy infusion of pop-punk electro. Bloc Party is currently working on their third full length album which will include their latest single "Mercury?" It is rumored that their next album will be more electronically driven, big surprise huh? Bloc Party will also be performing at Lollapalooza 2008 and will tour limited east coast cities.
So you better catch em while you can!!!
All Comments require admin approval.